Reining in Ransomware
We have released the second volume of our Investigative Cybercrime Series in collaboration with Cyentia. Reining in Ransomware explores the most prolific ransomware strains, ransom demand and payment trends, and the implications of data exfiltration.
The data for this research comes directly from nearly 1,500 ransomware events investigated by Arete, exceeding $1 billion in ransom demands.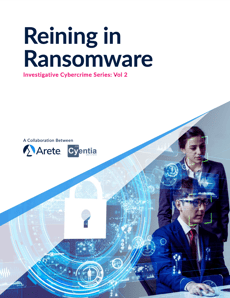 Key Findings
Seven of the top ten ransomware strains in 2022 are new, which indicates swiftly changing dynamics among cybercriminals and their campaigns.
Sixty-one percent of attacks involved infections through exploitation of poorly secured remote access services. As digitization increases, attacks also evolve.
The top ten post-compromise techniques each factor into more than 50 percent of ransomware incidents.
Ransomware demands were five times higher when data exfiltration is involved.

That is happening

six times more often in 2022

than in 2019.